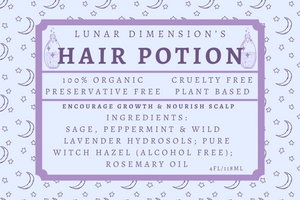 Hair Potion + Eucalyptus Oil
The same exact Hair Potion but with eucalyptus oil added 🖤
Indulge in this refreshing Hair Potion, crafted from a divine blend of sage, peppermint and wild lavender hydrosols, rosemary oil, and pure witch hazel to soothe, heal, and stimulate your scalp. Use daily to heal any irritations like dandruff and encourage hair growth for thicker, healthier hair that grows faster and longer. 

While I formulated this mainly to help me grow my hair longer and heal my hairline, witch hazel is an amazing astringent which makes this an excellent dry shampoo alternative (no more gross buildup!). Because it's almost always cut with alcohol it's often drying, but this witch hazel is 100% pure, no alcohol whatsoever. Gentle yet effective oil control. 
Using this hair potion in conjunction with hair oiling once a week has completely transformed my hair - I hope you try it, too! And check out the photos for information on what each plant does. 🖤
Directions:
Shake well before using. Spray liberally onto scalp as often as you like. Can also be used as a toner! No preservatives, use within 6 months for best results. 
**Free US shipping**
4fl oz/118mL
100% Organic 
Preservative Free
Cruelty Free
Plant Based 
Ingredients:
•Organic Sage hydrosol
•Organic Peppermint hydrosol
•Organic Wild Lavender hydrosol
•Organic Pure Witch Hazel
•Organic Rosemary oil 
•Organic Eucalyptus Oil